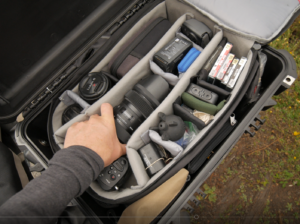 Tim's camera kit is very portable and packs into a single waterproof case attached as a top box on the KTM 790 Adventure, and previously on the Versys 650.
At first I was worried that the camera body or lens would get damaged bouncing around in the case over thousands of miles of off-road riding, but so far everything is still solid.
The easy access top case makes it quick to grab b-roll shots while travelling. I've tried storing the camera gear in side panniers, but then the whole camera bag needs to be removed from the pannier, placed on a flat surface, unzipped, etc. Too slow.
99% of MOTOTREK is shot handheld, and some b-roll on the gimbal. If I need a tripod I strap the durable yet inexpensive Amazon sticks to the top of a Mosko pannier.
Currently shooting with:
Panasonic GH5 using V-LOG
Sigma 18-35mm F1.8 Art DC HSM Lens
Metabones Speed Booster XL 0.64x
Hoya Solas IRND 1.2 72mm Infrared Neutral Density Filter
Olympus M. Zuiko Digital ED 12mm f/2.0 lens (gimbal shots)
Panasonic LUMIX G X VARIO 35-100mm
Panasonic Lumix 25mm f/1.4 lens (rarely)
Zhiyun Crane 2 stabilizer
DJI Mavic Air drone
Tascam DR-05 Audio recorder
Sennheiser ME2 Condenser Microphone
Rode Video Mic Pro
GoPro HERO8 Black x2
Neewer Professional Camera Case Backpack
AmazonBasics 62-Inch Aluminum Ball Head Tripod
2017 episodes were shot with:
Up until 2020 in the classroom we shot with the Canon C100 mk2 camera and a Rode NTG2 boom microphone. The workbench is lit with KinoFlo's.
---
Our Workflow
All the segments with the host talking are shot in 4K 4:2:2 at 24p in VLOG. A lot of the action shots that are not super-slow-motion are shot at 4k 60p 4:2:0 since we still can use the audio but have the flexibility to playback smoothly in slow motion if necessary. The super-slow-motion shots are 1080p somewhere between 120 – 180fps. All editing, grading and audio mixing was done using Premiere Pro until 2020 when we switched to Davinci Resolve.
Most episodes take a day to shoot and one or two days for post production. We upload 1080p 24P 30mbps MP4's to YouTube.
UPDATE: ADVrider recently published an article about Tim's video gear. Check it out!