The first thing I add to every motorcycle I get is a set of amber auxiliary conspicuity lights. For me, riding without them is like riding with bald tires.
In 2019 I was pleased to find a conspicuity light option that checked all the right boxes:
Inexpensive on Amazon @ USA
Amber colored LED
As bright as my old Rigid Dually's
Durable & easy to mount
Very light weight & tiny
Low power consumption @ 30W
Versatile w/ high & low beam wiring
Not blinding for oncoming traffic
There's also a "Zmoon" branded less expensive, slightly smaller version which looks similar but we have not tested.
Why would you want auxiliary lights on your motorcycle? Conspicuity. Besides brightening up dark roads and trails, front-facing auxiliary lights make you and your bike more visible to oncoming traffic all the time, day or night. That might save your life.
Results from a study by the National Highway Traffic Safety Administration here in the US "suggest that enhancing the frontal conspicuity of motorcycles with lighting treatments beyond an illuminated low beam headlamp may be an effective countermeasure for daytime crashes involving right‐of‐way violations."
I prefer amber since it contrasts with my white headlight. Ideally you want to create a triangle configuration with your front-facing lights. This helps oncoming drivers recognize perspective and determine how far ahead you are.
When drivers glance and see a single motorcycle headlight in the distance, even if it's just a short distance, their brains subconsciously interpret that as two automobile headlights close together, and therefore very far ahead. So they pull out into your right-of-way thinking you are very far away and not a threat. Their innocent mistake in judgement might kill you.
When drivers glance and see three lights their brains work a little harder to figure out what's coming. Is that a locomotive? That mental double-take is hopefully enough to delay their actions, and keep them out of your way.
These Exzeit LED lights are surprisingly bright and will help you navigate dark forest roads and campgrounds. When positioned properly, the beam pattern compliments your headlight's without blinding oncoming traffic. When switched to high-beam, the light is higher and brighter. My initial installation on the Kawasaki Versys 650 combined the high and low-beam wiring and the lights were way too bright and offensive. I've since disconnected the high-beam wiring permanently.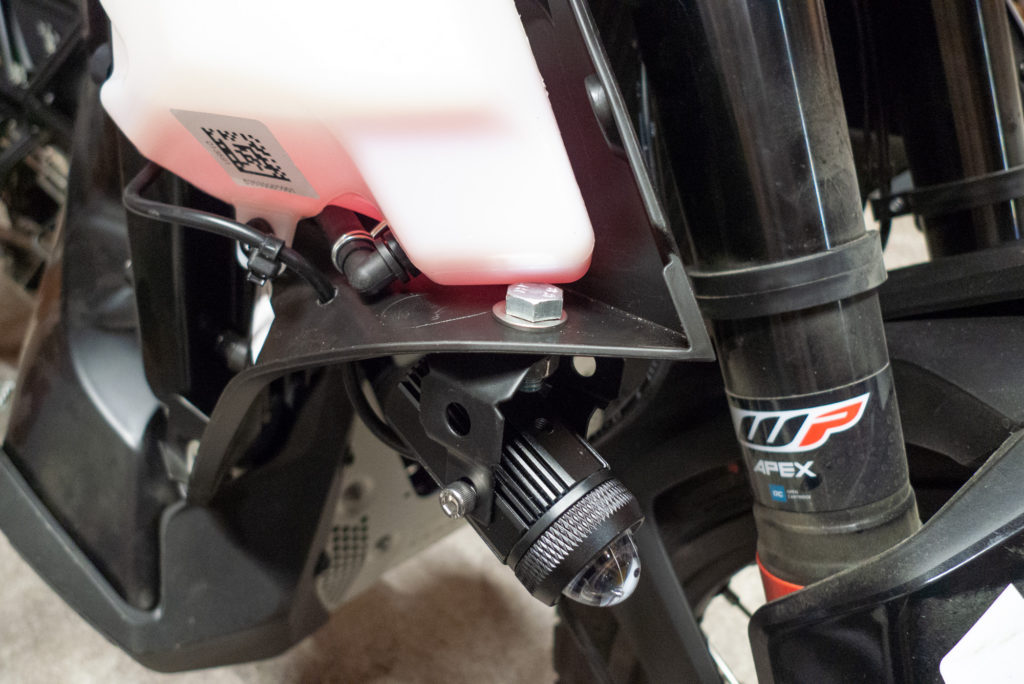 I've had aux lights on all my bikes in the last ten years and these are by far the easiest to install. They are small enough and light enough that you probably don't need any extra brackets or widgets to attach them to your bike. The aluminum housing has threaded holes on four sides so they can be mounted from just about any angle. Use thread–lock on those short little screws that come with the lights. You could probably even zip-tie them to your fork legs if you're lazy.
On my KTM 790 Adventure I simply drilled a hole in the plastic side panels and bolted the LED brackets in a hanging position. This puts the lights exactly where I want them, creating an almost equilateral triangle. They are out of the way if the bike tips over and they do not interfere with steering. The wiring from each light is joined under the front seat and is routed to the switched auxiliary connectors near the tail light.
Get yourself some aux lights.
I recommend these Exzeit brand lights on Amazon.